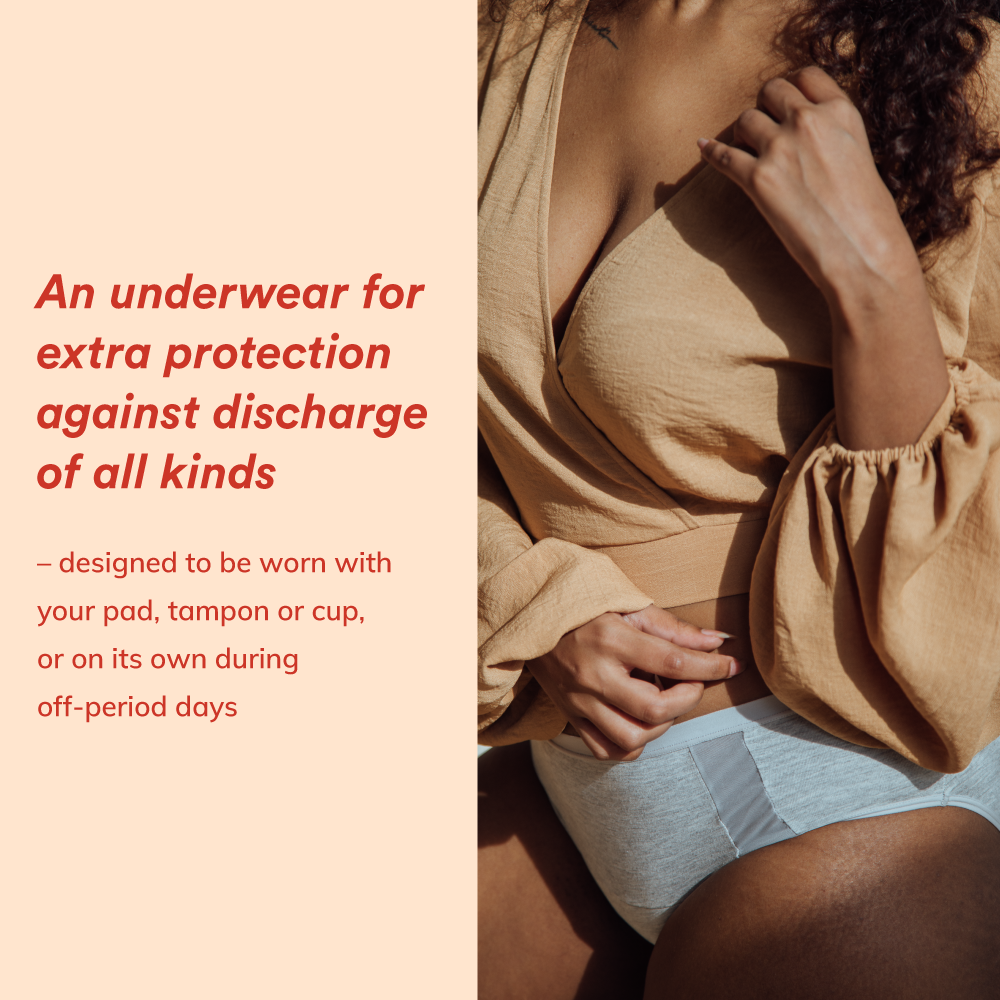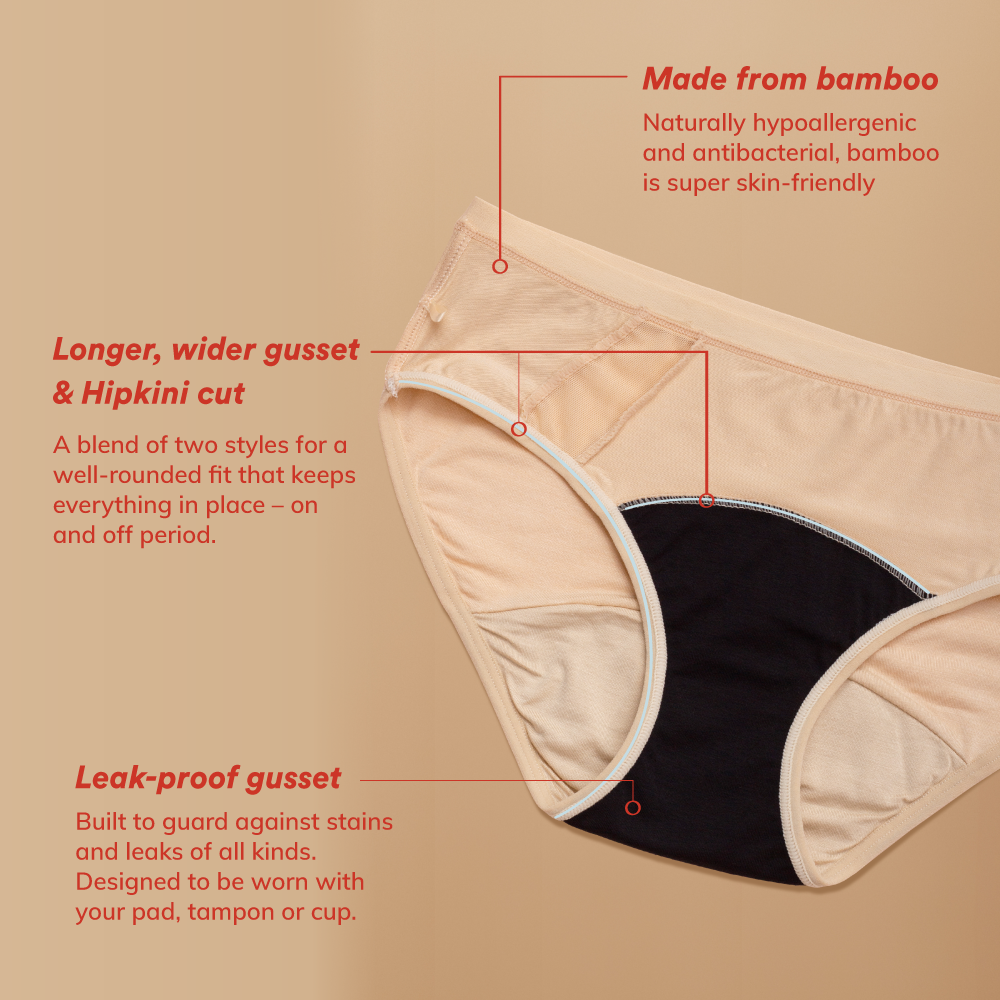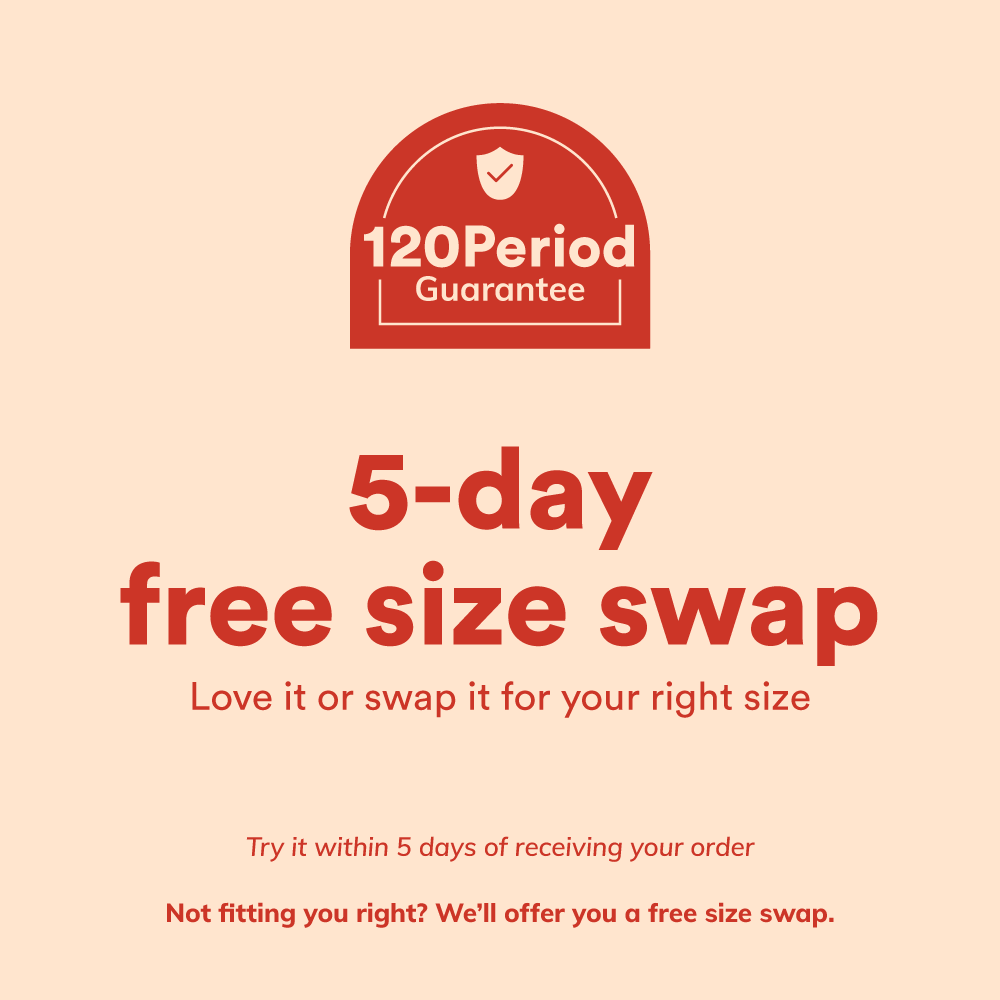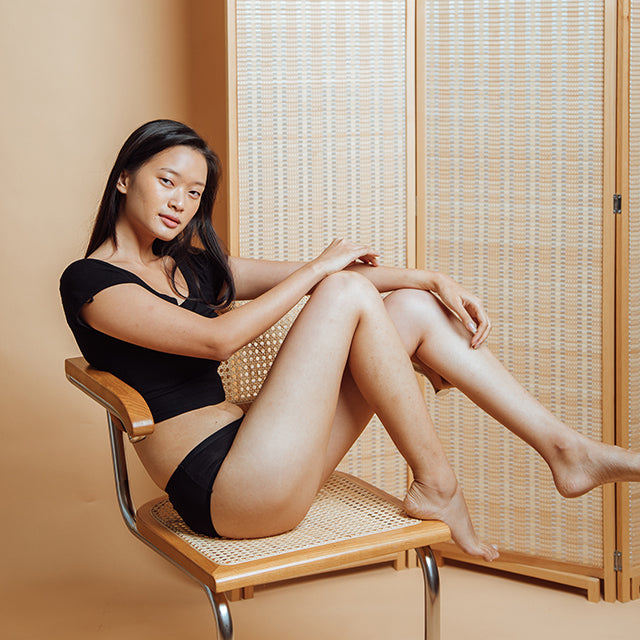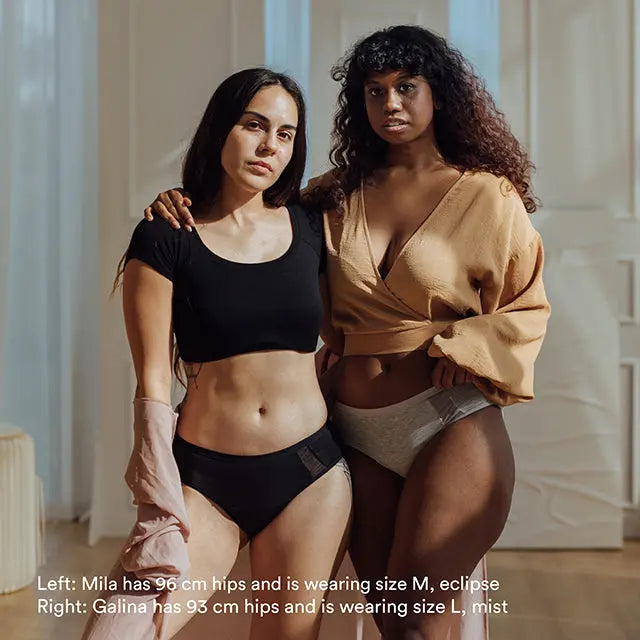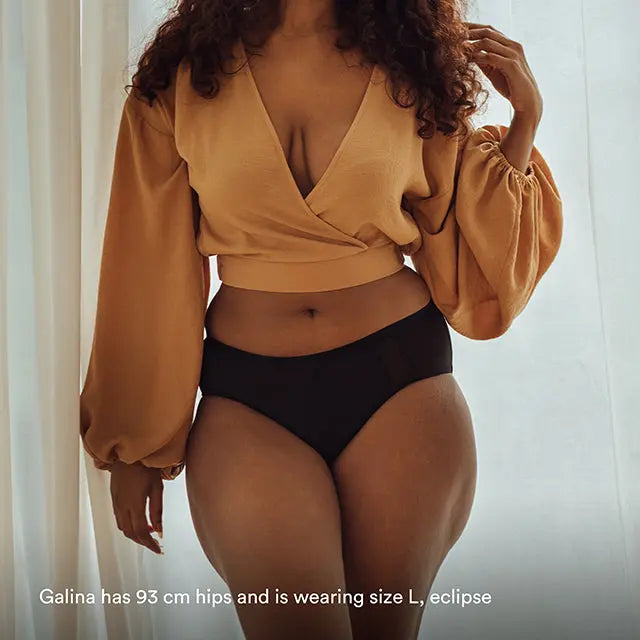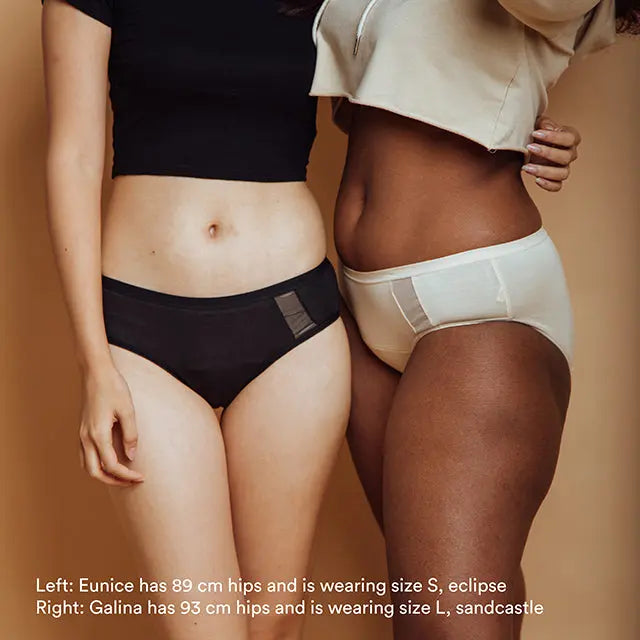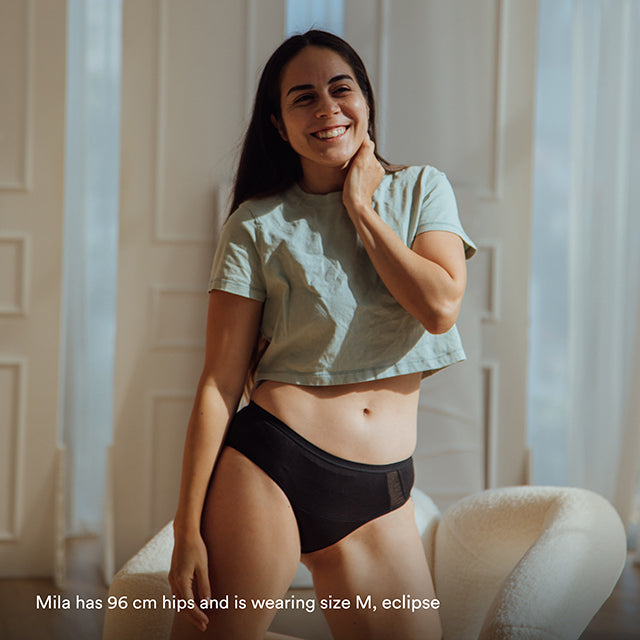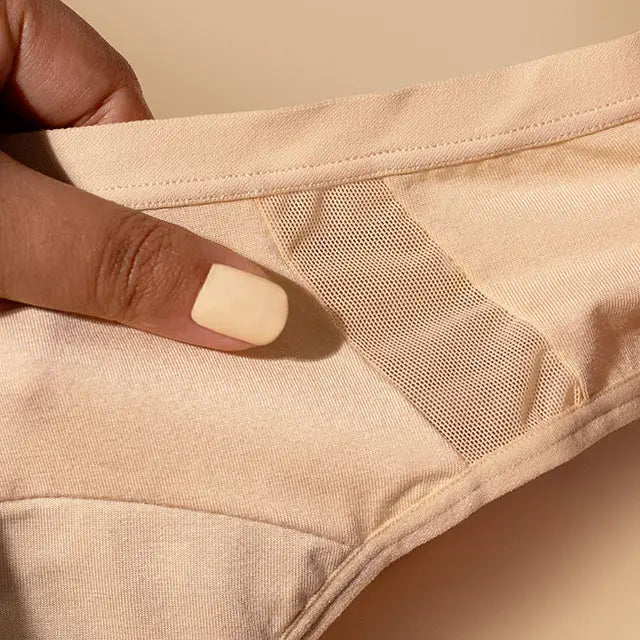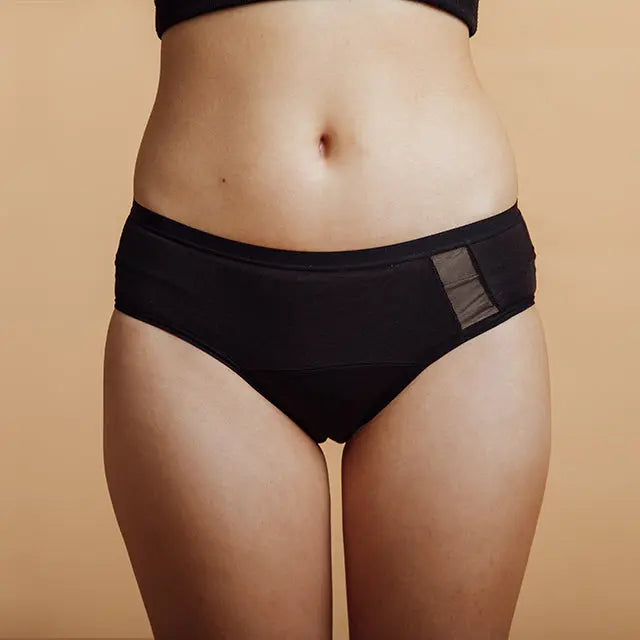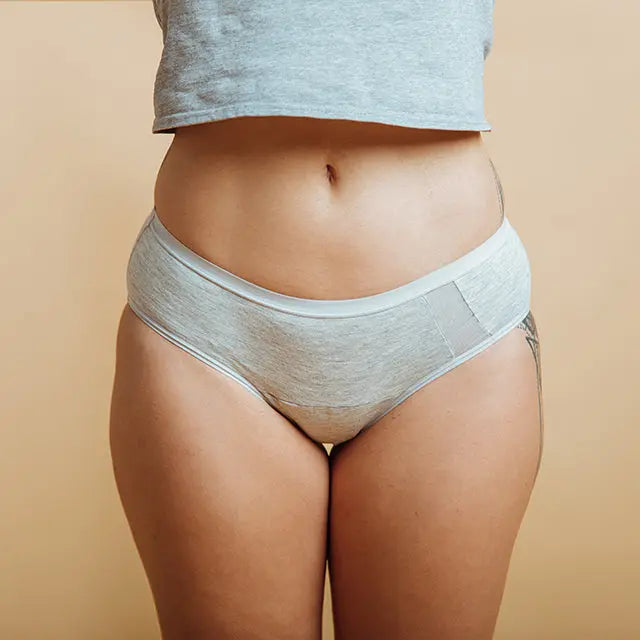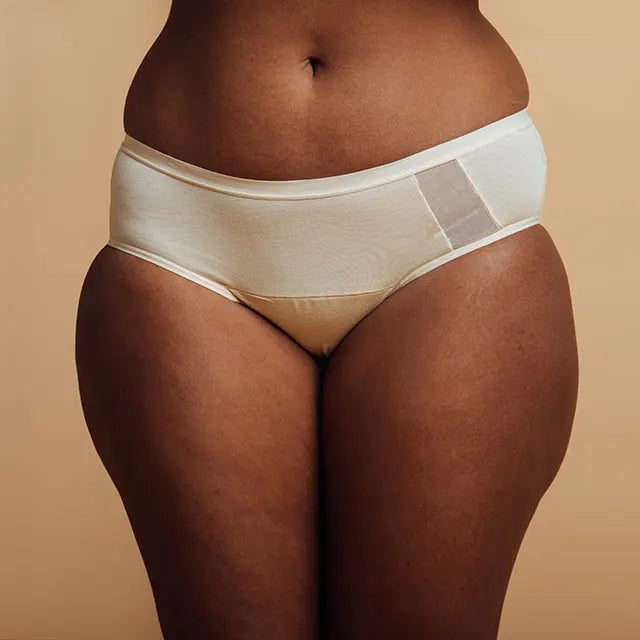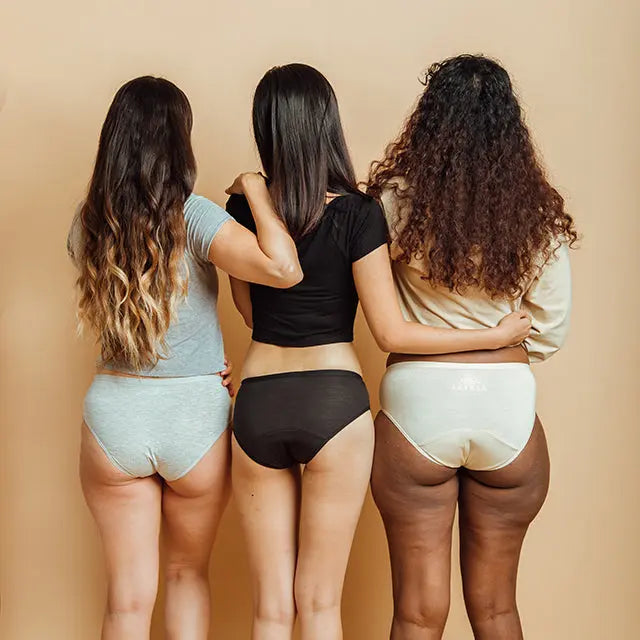 Hipkini Bamboo Underwear
Ships next working day | Free shipping for orders over $25
What it is:
Underwear designed for extra protection against discharge of all kinds.
Why it's special: 
Designed to be worn with your pad, tampon, or cup, or on its own during off-period days, keeping leaks in and worries out. Featuring a leak-proof lining for greater security and comfortable everyday protection.
Leak-poof gusset

Longer & wider gusset

Specially designed hipkini cut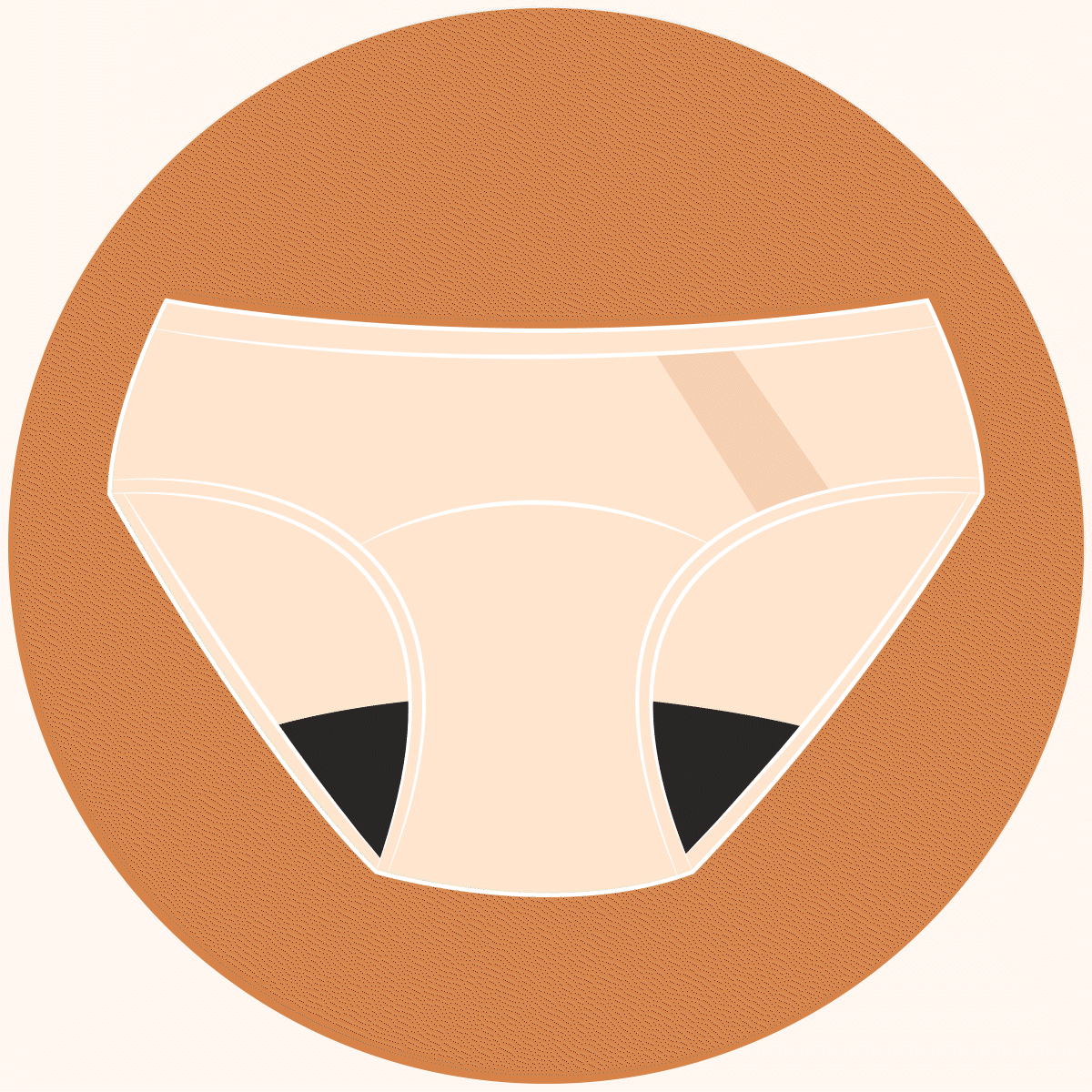 Hipkini cut
Hipster + Bikini = Hipkini. A blend of two styles for a well-rounded fit that keeps everything in place – on and off period!
Longer & wider gusset
Designed with an extended gusset that provides greater coverage and security, for all-day, all-cycle protection.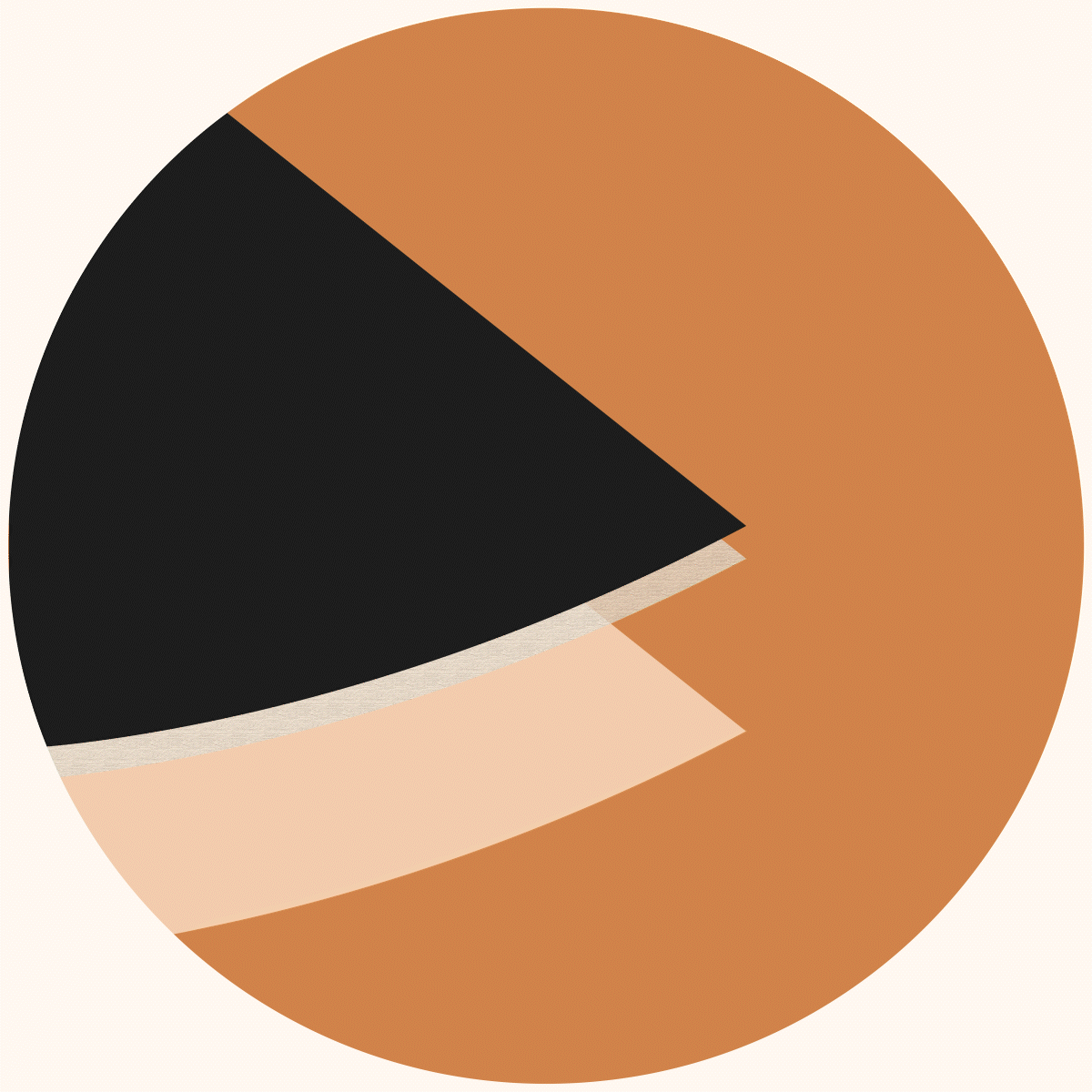 Leak-proof layer
Enjoy worry-free days with this ever ready back-up that's built to guard against stains and leaks of all kinds!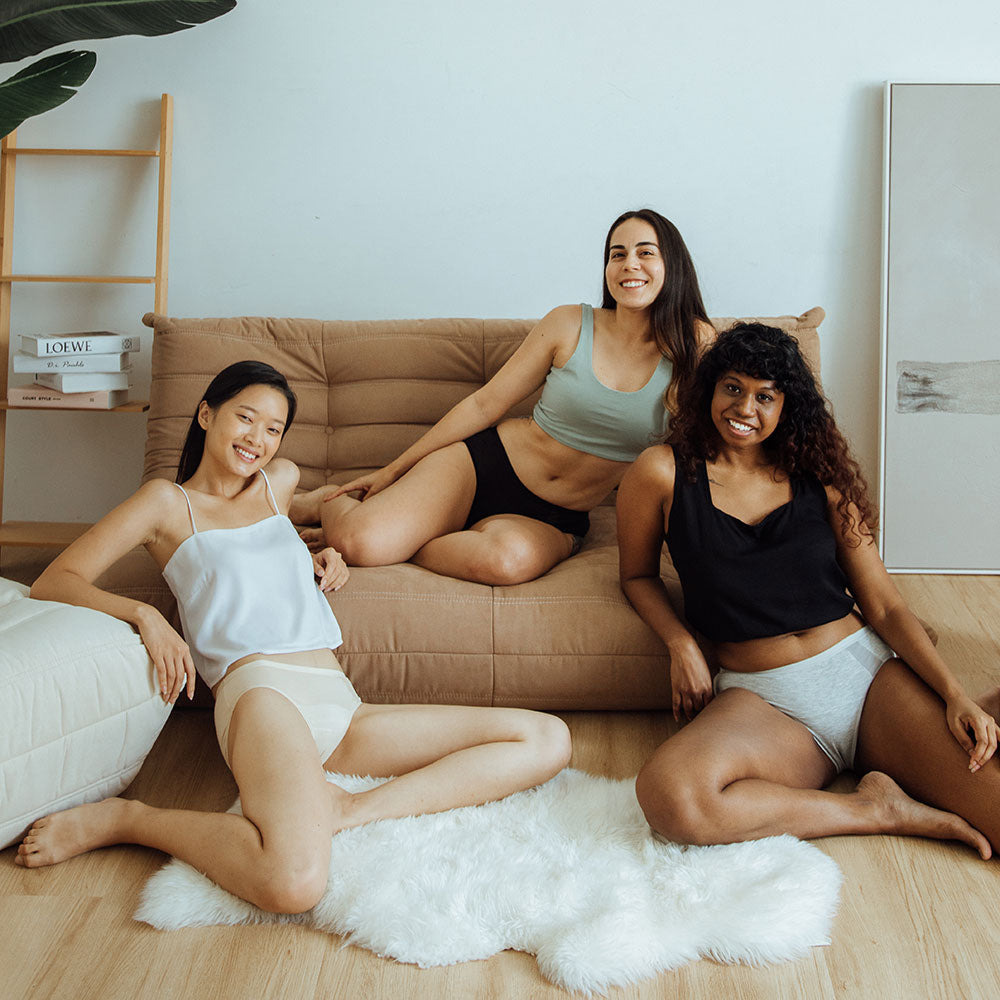 ALL-DAY, ALL-CYCLE PROTECTION
Your Period Peace of Mind
Hipkini Bamboo Underwear is the answer to cycle limbo – taking you through "pre-riod" days when you want to be prepared, all the way till you're in the clear. Get everyday protection with leak-proof undies that are soft, breathable, and hypoallergenic. No more what ifs and oh nos. Meet the kind of barely-there comfort that fits into every part of your flow!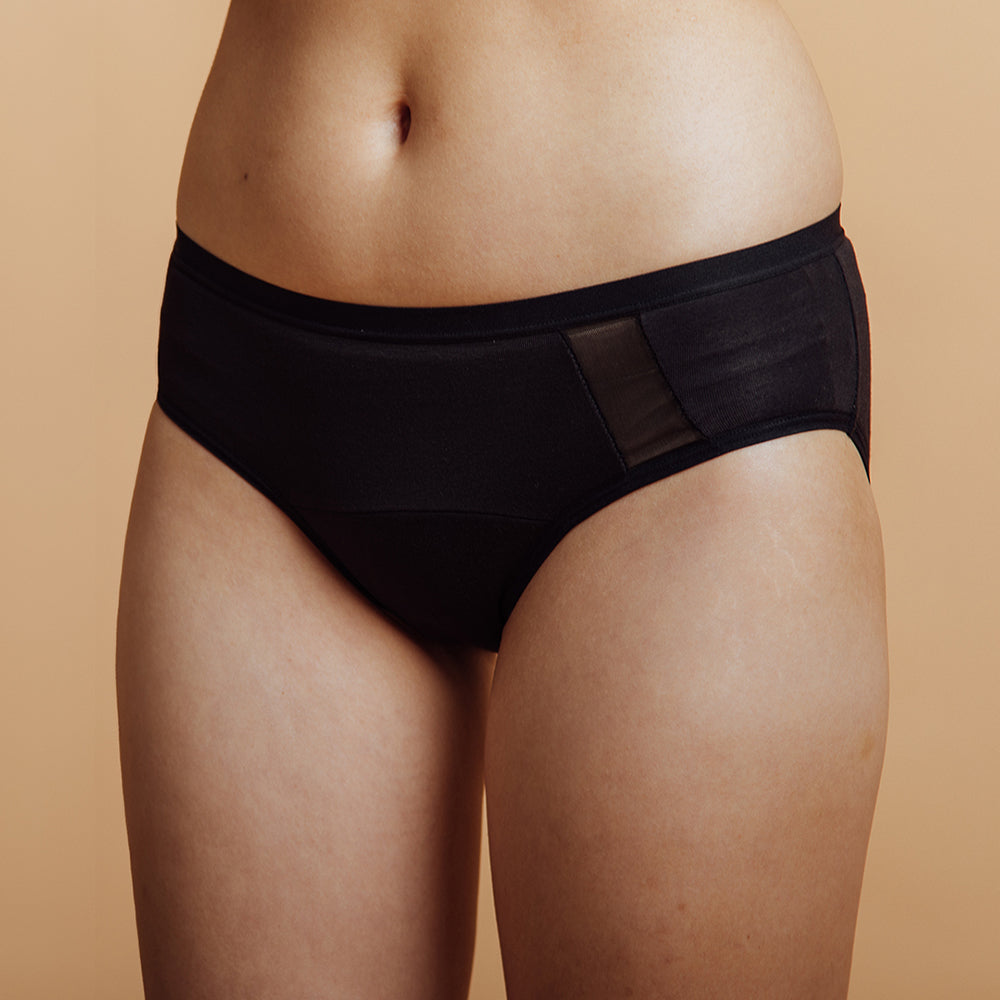 HIPKINI CUT
We've Got You Covered
A thoughtful hybrid of the two comfiest styles, the Hipkini provides a perfect in-between for everyday wear! Its snug, close-to-body fit hugs you in all the right places – medium-low rise in the front, with a little more coverage at the back to keep you comfortable and secure.
LONGER & WIDER LEAK-PROOF LAYER
No Leaks, No Worries
Looks and feels like regular underwear, but with a powerful leak-proof gusset! Designed to be longer and wider, it provides coverage that keeps leaks in and guards against stains, even while you're on the move. Pair with your pad or cup for worry-free period days!
Frequently Asked Questions
No more having to separate your period undies from your regular undies! The Hipkini Bamboo Underwear is made ultra-comfy for all day, any day wear. And best of all, it's made with a leak-proof lining that protects you from potential drips and spots so you feel safer and fresher at any point of your cycle.
With anti-odour leak-proof layer technology, our Hipkini Bamboo Underwear protects against leaks, while wicking away excess moisture so that you stay fresh, dry and worry-free. The Hipkini cut is also a comfy style for everyday wear, and comes designed with a wider and longer gusset for more coverage and greater security. Plus, it's made of skin-friendly bamboo – a naturally hypoallergenic, antibacterial, and breathable fabric that keeps your skin cool all cycle long!
Yes! While the Hipkini Bamboo Underwear is not period underwear, it's an excellent back-up to your favourite period care. So pair it with your tampon, cup, or pad for extra protection on period days. Or wear it on its own during other points of your cycle for peace of mind!
Use our handy size chart & measurement guide to figure out your measurements and which size suits you best.

Got it wrong? New customers can request for a free size swap within 120 hours (5 days) and we'll send over your desired size!
Bamboo is naturally hypoallergenic and antibacterial, so we can't think of a better fabric for garments that sit super close to your body. This means that it's even friendly to sensitive skin! This ultra-soft fabric is also highly breathable and helps to keep skin cool by quickly wicking away excess moisture – so you stay dry, fresh, and odour-free for longer.
Just like regular underwear! Our underwear was designed to powerfully protect while still being discreet. Never bulky or heavy, just barely-there comfort that lets you pop a pair on any day and go!
Hipkini bamboo underwear
I am so hyped with hipkini bamboo underwear. The fabric is smooth on the skin. The tightness around the groin area is breathable. I don't feel sticky and I didn't developed rash after wearing it up to 8hrs. However the stitches come off easily (before washing) but still wearable. Shall buy again and hopefully I won't get factory faulty ones. ✌️
Really comfortable
Really comfortable, was expecting it to be thick and plastic-ky but it's actually really soft and comfortable.
Comfort at its best!
Fits well and it's soooo comfy! Feels breathable wearing it especially in SG's hot weather!
Good fit and comfortable
Comfortable and fits well. Fits more securely than Uniqlo cotton underwear and you can feel the end of the gusset because it's longer, but that's okay for me. Also feels light and dry, and provides more peace of mind because of the gusset. Wearing Uniqlo size M, also wearing M for this.
A fan for life!
It's not like those kind of period underwears. It's more like if you wear pads, tampons or cup and you accidentally leak so the period underwear will save you and your clothes rather than those days, it will leak through your underwear and stain your clothes.
Sometimes I'll leak because I forget to check whenever my period comes. Anyways whenever I cough or sneeze, I'll accidentally... Ya know... Pee a little? I wore the bamboo black underwear and OMG, it feels like heaven. It felt so comfortable.
Coincidentally the next day, I had spotting so that means my period is coming the next few day, so like it saved my life, I swear!
Afterwards, I coughed due to the weird weather lately, I accidentally peed... I stood up and check that the chair isn't damp so I went to the washroom and realised that it only soak the first piece of cloth? It didn't soaked through the underwear!
So basically, all I'm saying is that, i would definitely purchase this again!
Blood's Leak-Proof Bamboo Undies
Material is very comfy, thin and breathable! It's like any good quality underwear, but with the added security to prevent stains/leakages. Personally found it useful to wear it the few days before my period arrives as my period tends to differ by a few days every month (and hence unpredictable!)
Fab!!
I was sent a pair of Leakproof Bamboo Underwear by the lovely folks over at BloodSG for review! The selling point of these is that they stop the leaks you sometimes get while using products such as menstrual cups, pads, and tampons. They can also be worn as everyday underwear.
Packaging: It comes in a resealable, reusable, biodegradable pouch. It's packed flat so you could easily toss it in your bag for when your period takes you by surprise while you're out (we've all had those!).
Colour/Looks: I was sent a pair in a shade called Sandcastle, which is completely beige except for the black waterproof lining. I like that I can wear these under light coloured dresses and bottoms (if I ever feel brave enough to do that on my period, of course!). And the black waterproof layer means no bloodstains. It's plain except for a fashionable diagonal strip of mesh in front - no lace or anything.
Size and fit: According to the size chart, I'm an XL, but I opted for L instead because I prefer a snugger fit when it comes to period underwear. My hips are UK14-16 depending on the cut and I probably would have been fine with either L or XL. For those who get bad bloating on your period, you should probably go for your usual size so you don't feel too constricted. It rises higher and covers more of your bum than a regular bikini brief. I prefer more coverage when I'm on my period, so that's a plus for me. Overall, it's a gender neutral style, so these could be worn comfortably by anyone who menstruates.
Comfort: Omg, you guys. Bamboo is the way to go. Light, soft, moisture wicking...what more could you ask for in Singapore's weather? I wore these around on a hot day and didn't get that humid feeling you sometimes get. 🤢 Compared to some other leakproof and period underwear I have tried, the seams on these are comfortable, and the waterproof layer is still as soft as the rest of the garment.
Waterproofing: Full disclosure, I haven't worn these yet on my actual period, but I've worn it to catch the discharge I sometimes get in the week or so leading up to my next cycle. I had no complaint about that and I'm looking forward to wearing it with my menstrual cup.
Overall: Super soft and comfortable, these are exactly as advertised. I highly recommend these and would love to get a few more pairs for myself! 🥰